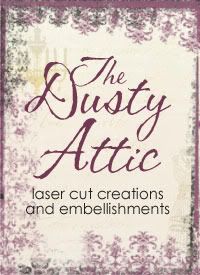 Happy Monday friends! Just wanted to post a quick note about some of the new changes over at The Dusty Attic. If you haven't done so already, head on over to to see the newly redesigned
 site (thanks to two talented ladies, Mistra and Michelle )
The new January 2011 releases have been posted! Be sure to check out the new gorgeous chippies!
We also have new Dusty Attic blinkies and blog buttons available! Click here to be directed to the blinkies page.
Also, don't forget to enter this month's sketch challenge for a chance to win a fabulous prize pack!
Have a fantabulous week everyone!